Nasolabial Folds (smile lines) and cheeks treatment with Dermal Filler at Well Medical Arts
Dominique from Well Medical Arts demonstrates a dermal filler treatment for the correction of the Nasolabial Folds (also known as Smile lines or laugh lines ) This is and example using Juvederm Ultra Plus(other fillers such as Radiesse, Voluma and Bellafill can also work well) to the cheeks to lift the nasolabial folds and etch out the remaining lines. Volume loss is the cheeks is most often the cause of the laxity in the lower face. When we replace the volume lost in the cheeks first it lifts, giving us a natural looking result. Check the end for some amazing before and afters.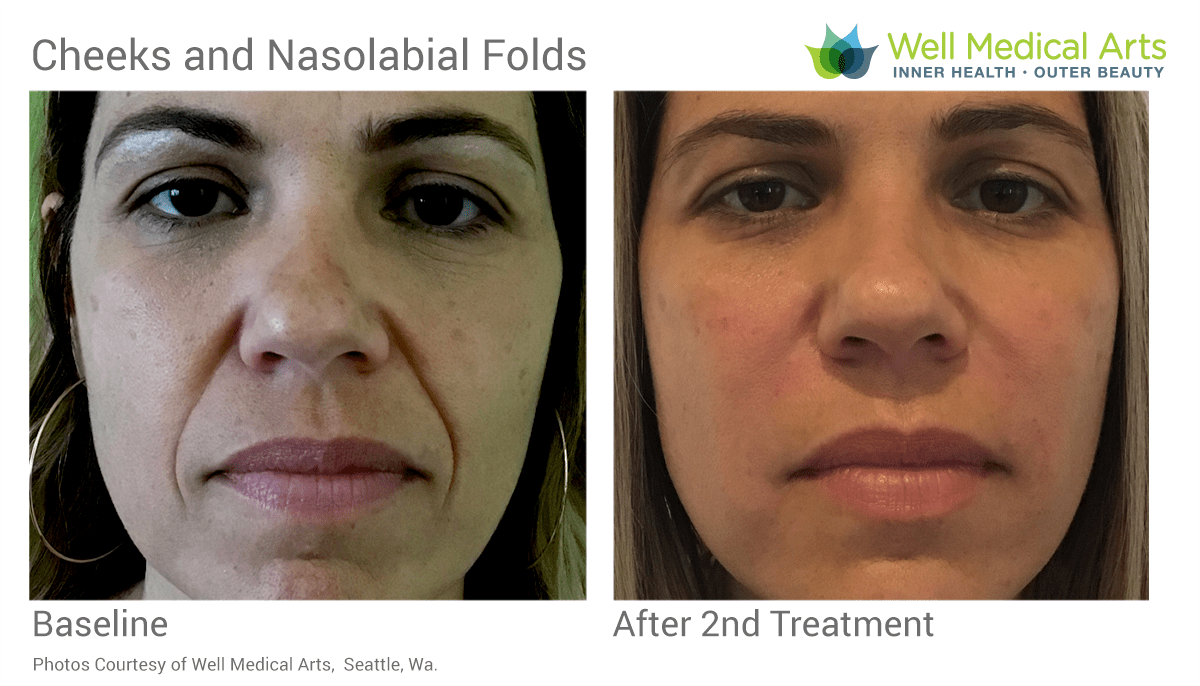 You may also call one of our patient care coordinators at 206-935-5689 and we will be happy to assist you in scheduling.
Cheeks and Nasolabial fold VIDEO TRANSCRIPT
0:00:00.000,0:00:05.790
hey it's Dominic well from well medical
0:00:02.580,0:00:08.490
arts and today we get to do some cheeks
0:00:05.790,0:00:10.440
yay so pretty and fun and then a little
0:00:08.490,0:00:12.809
bit of smile lines we're also gonna put
0:00:10.440,0:00:15.420
just a tiny bit of Botox into the salon
0:00:12.809,0:00:18.990
lights so we're gonna stir it out
0:00:15.420,0:00:25.350
we're then drawing on you I'm going to
0:00:18.990,0:00:27.410
go ahead alright go ahead and close your
0:00:25.350,0:00:27.410
eyes
0:00:28.070,0:00:33.000
first just feel my hands towards them
0:00:31.140,0:00:35.719
just a little bit more good job take
0:00:33.000,0:00:35.719
that breath in
0:00:37.680,0:00:40.789
[Music]
0:00:54.520,0:00:57.949
[Music]
0:01:06.710,0:01:14.360
and exhale perfect
0:01:20.780,0:01:42.180
looking good and then one more and a
0:01:34.470,0:01:44.670
little bit there we go yay looks good
0:01:42.180,0:01:46.020
very natural very alright and then
0:01:44.670,0:01:47.610
gently turn towards me
0:01:46.020,0:01:50.760
chin down just a little there we go
0:01:47.610,0:01:54.259
first a hand I'm gonna take that breath
0:01:50.760,0:01:57.750
in and exhale
0:01:54.259,0:01:59.730
tiny fuck good job babe that's the first
0:01:57.750,0:02:03.049
one
0:01:59.730,0:02:03.049
[Music]
0:02:05.270,0:02:08.440
[Music]
0:02:24.640,0:02:27.640
and
0:02:37.760,0:02:42.480
now this is just a little bit of cheek
0:02:40.530,0:02:45.470
I'm struggling you're really right
0:02:42.480,0:02:45.470
natural
0:02:55.010,0:02:58.000
looks great
0:03:00.760,0:03:08.030
great yeah
0:03:05.270,0:03:15.370
okay now we're gonna ice up and then
0:03:08.030,0:03:15.370
thank you and do these nasolabial yay
0:03:16.810,0:03:21.220
tell me well this one's good and cold
0:03:18.920,0:03:21.220
tonight
0:03:36.650,0:03:51.519
hold and go tell us everything
0:04:19.149,0:04:22.929
[Music]
0:04:28.820,0:04:33.920
that one bite a little bit loose are
0:04:31.230,0:04:36.420
they what we'll do is we'll go back and
0:04:33.920,0:04:44.130
ice a little bit more before we keep
0:04:36.420,0:04:46.140
going okay yeah ice a little bit yeah
0:04:44.130,0:04:48.450
and it gets tender as it gets a little
0:04:46.140,0:04:50.340
lower closer than our mouth that's where
0:04:48.450,0:04:53.070
there's more diversity starts out good
0:04:50.340,0:04:54.810
okay I'll stop nothing I'm never on yeah
0:04:53.070,0:04:57.230
a new you get lower in the blue I got
0:04:54.810,0:04:57.230
that one
0:05:10.640,0:05:13.800
[Music]
0:05:42.630,0:05:45.790
[Music]
0:05:54.520,0:06:00.530
just think I touched it look and they're
0:05:57.169,0:06:03.830
all silent Mecca it's there mm-hmm Dean
0:06:00.530,0:06:05.300
wanting me at all good it's normal to be
0:06:03.830,0:06:07.039
able to feel it a little bit you
0:06:05.300,0:06:08.630
shouldn't be able to see it like I'm um
0:06:07.039,0:06:10.220
yeah it's okay to be able to feel a
0:06:08.630,0:06:11.990
little bit of it in there cuz it's in
0:06:10.220,0:06:14.389
there doing it was supposed to do waking
0:06:11.990,0:06:18.560
up a little bit of space and huh there
0:06:14.389,0:06:20.880
we go and yours were pretty deep the
0:06:18.560,0:06:22.800
first time we went around yeah using the
0:06:20.880,0:06:27.810
don't say plus which is a little bit
0:06:22.800,0:06:30.060
thicker yeah it's been working good this
0:06:27.810,0:06:34.470
is cheap number two and it just keeps
0:06:30.060,0:06:40.860
doing better better but look down nicely
0:06:34.470,0:06:43.500
do you want to see it yeah yeah mm-hmm
0:06:40.860,0:06:44.640
so see it just that little bit to the
0:06:43.500,0:06:46.830
cheek mm-hmm
0:06:44.640,0:06:48.900
look at how nice the cheek looks mhm
0:06:46.830,0:06:51.150
isn't that just some company and that's
0:06:48.900,0:06:52.950
just a little bit though I'm gonna say
0:06:51.150,0:06:58.170
maybe even a little bit more next time
0:06:52.950,0:07:02.220
right okay but healthy mm-hm and then
0:06:58.170,0:07:04.170
here looks pretty good a little bit of
0:07:02.220,0:07:06.090
swelling a little bit of poked book book
0:07:04.170,0:07:13.380
and you know all of that heals in there
0:07:06.090,0:07:16.530
perfect and now I'm gonna do the same
0:07:13.380,0:07:19.680
thing for this side has a little bit
0:07:16.530,0:07:22.950
more of the line itself and so I might
0:07:19.680,0:07:25.290
need to do a little bit of the book book
0:07:22.950,0:07:26.920
to get the same out it's just a little
0:07:25.290,0:07:30.089
bit different
0:07:26.920,0:07:30.089
[Music]
0:07:32.700,0:07:37.520
[Music]
0:07:35.000,0:07:40.020
not that I wear a mask kinda nervous
0:07:37.520,0:07:43.350
before one glance a big deal this is the
0:07:40.020,0:07:46.890
big deal um I think about it sometimes I
0:07:43.350,0:07:48.540
think once the Bulldog here wears out
0:07:46.890,0:07:51.990
mm-hmm I think I'll come into it
0:07:48.540,0:07:54.750
everything yeah how many units probably
0:07:51.990,0:07:56.970
needed we're here standard starting dose
0:07:54.750,0:07:58.410
is 20 units okay and you could use that
0:07:56.970,0:08:01.080
because this one's pretty strong about
0:07:58.410,0:08:02.970
raise your eyebrows I would probably
0:08:01.080,0:08:07.400
only do about 10 to 12 up on your
0:08:02.970,0:08:07.400
forehead so let's say like 30 30
0:08:19.030,0:08:39.750
hang in there I'm doing the warm
0:08:33.610,0:08:41.800
compress for swelling so cold before to
0:08:39.750,0:08:43.570
vasoconstrict to shrink down their
0:08:41.800,0:08:46.990
little blood vessels so it will do less
0:08:43.570,0:08:52.180
bleeding and bruising and then warm
0:08:46.990,0:08:57.560
afterwards to take down the swelling all
0:08:52.180,0:08:59.660
right looks great okay
0:08:57.560,0:09:03.890
it'll hold the butcher here for a second
0:08:59.660,0:09:07.640
let that finish alright so we just
0:09:03.890,0:09:09.920
finished up doing Juvederm Ultra Plus a
0:09:07.640,0:09:11.390
little half-and-half in the cheek here
0:09:09.920,0:09:14.540
just to give a little bit of left
0:09:11.390,0:09:16.670
lifting and support and then one syringe
0:09:14.540,0:09:18.830
through these nasolabial folds a
0:09:16.670,0:09:21.620
combination of going from the underside
0:09:18.830,0:09:25.520
to bump out and then a little bit right
0:09:21.620,0:09:27.290
into the line she may swell shame a
0:09:25.520,0:09:29.510
bruise a little bit but it's sure gonna
0:09:27.290,0:09:32.480
look gorgeous when it heals feel great
0:09:29.510,0:09:35.050
how was it for you honey yeah let me
0:09:32.480,0:09:35.050
find my problem
0:09:40.960,0:09:43.020
you