Instalift Nonsurgical Facelift: See immediate lifting and take years off of your face in under an hour.
Lift without surgery. Get volume without fillers.
Silhouette InstaLift uses absorbable micro-cones to instantly lift aging, mid-facial skin, including sagging cheeks and deeper nasolabial folds. This procedure also activates your natural collagen production to boost volume over time for up to 2 years. That means you can achieve the look you want — without surgery or fillers.
What is the Silhouette Instalift and how does it work?
The Silhouette Instalift is an FDA-cleared technology that provides an immediate facelift effect as well as a regenerative effect for progressive and natural results. Silhouette Instalift works by placing a biodegradable thread and absorbable cones into the subcutaneous fat layer just beneath the skin where the lifting is desired.  Using these biodegradable threads we can reposition sagging tissue in the mid face, neck and jowl area to a higher, more youthful position. The results are immediate. The treatment is not painful and your lift can last about 18 months.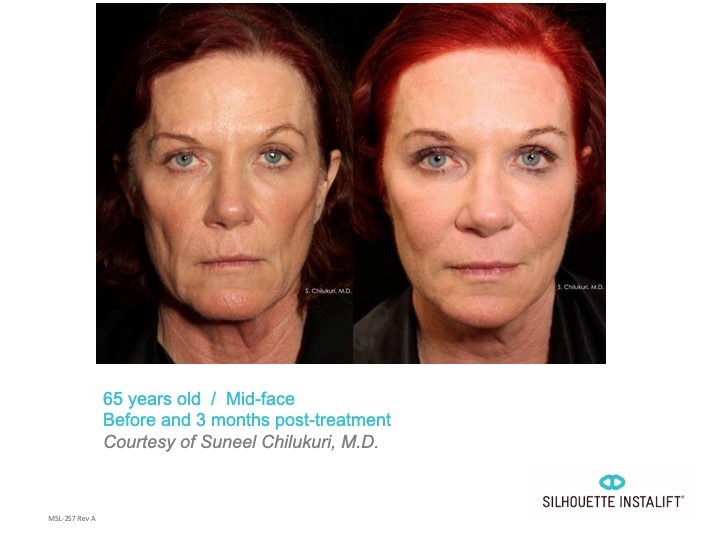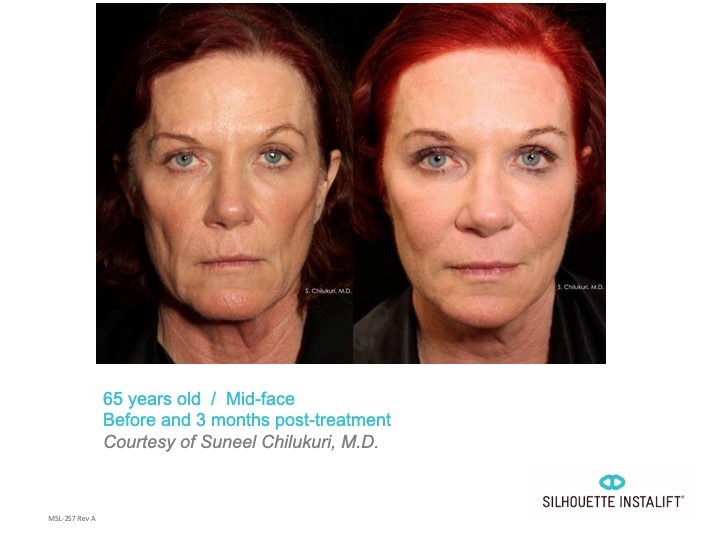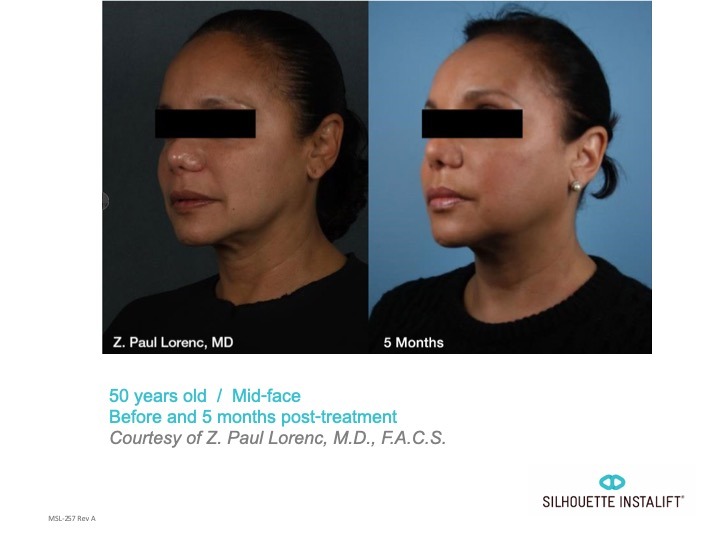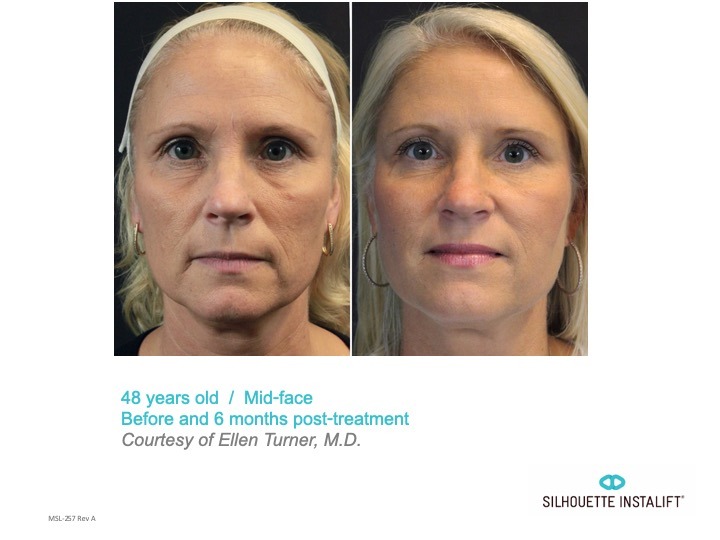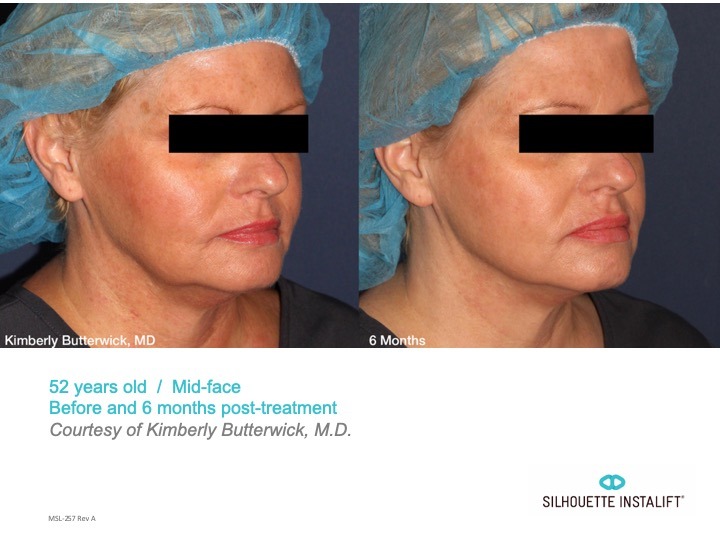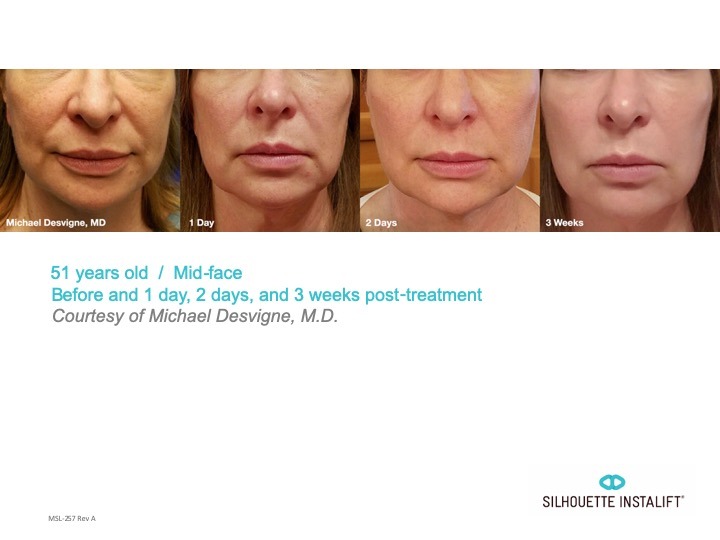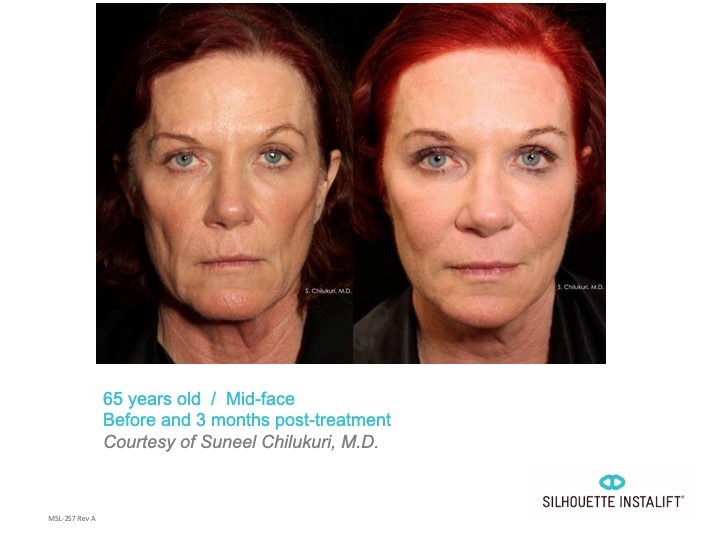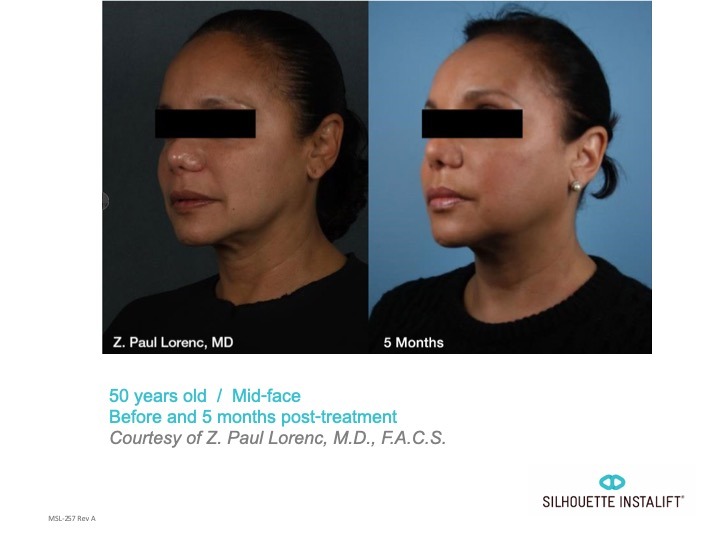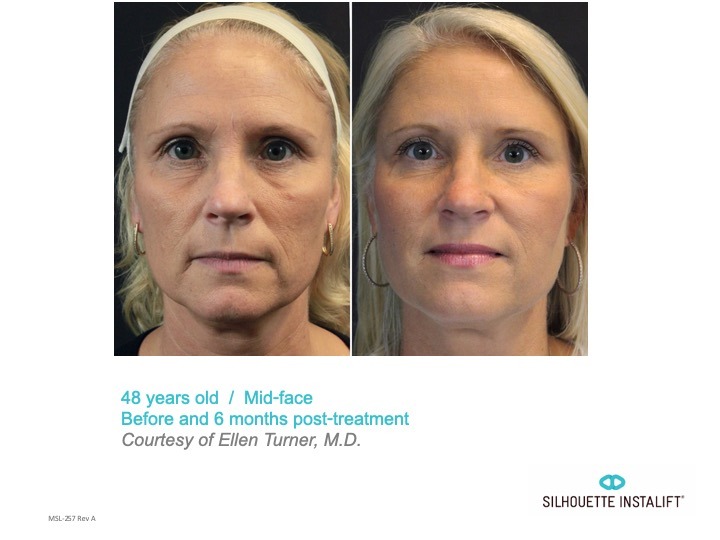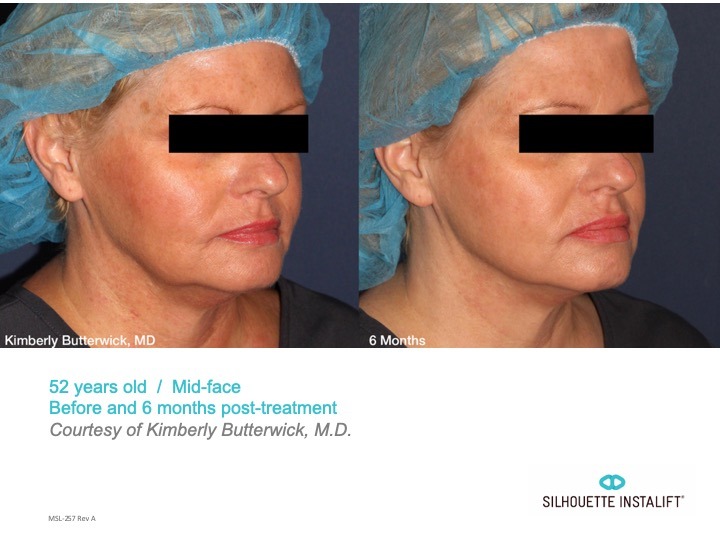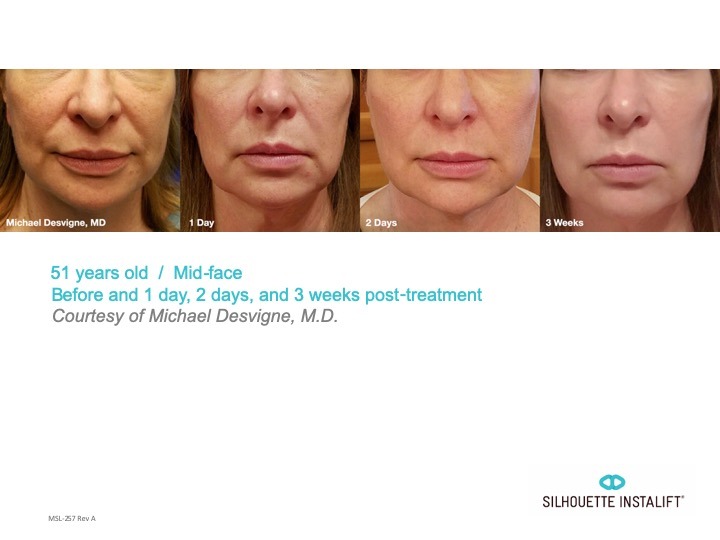 How much lift can you expect from a Silhouette Instalift?
Every person looses volume differently and has a different amount of laxity. Therefore the expectations for the amount of lift will be determined on how much volume loss and laxity is present and the number of Instalift threads used in your treatment.
How many Silhouette Instalift threads do I need?
While every patient is at different levels of volume loss and laxity we see best result using 4-6 instalift threads per treatment for area correction and 8-10 for optimal full face results.
How long does an Instalift last?
A typical Instalift treatment can last up to 18 months. The sutures dissolve over time and natural aging will continue, just as it would if you had no treatment or had a surgical lift.
What are the sutures made of and are they safe?
The Silhouette InstaLift threads are made from Polyglycolide/L-lactide (PLGA), which has a long history of use as a well-tolerated, resorbable suture.  The suture design was developed by scientists in the USA using reconstructive and aesthetic surgical expertise.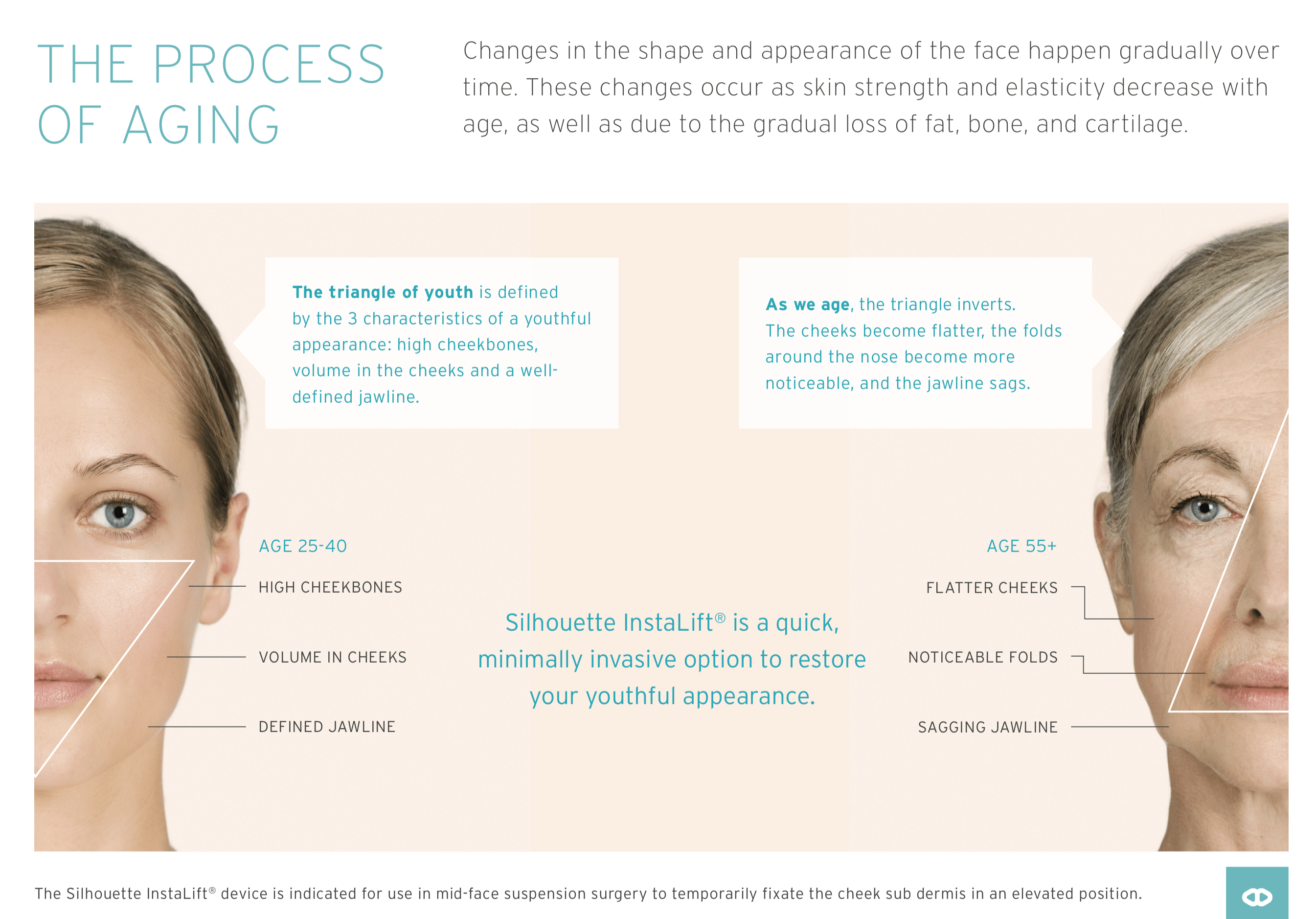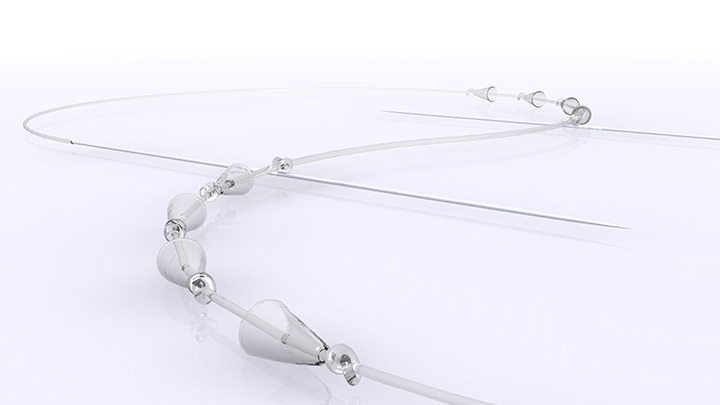 Learn more about Silhouette Instalift