Get Well Endowed with the Well Medical Arts Non-invase Penis Enlargement procedure using Dermal Fillers.

With the advancements in the technology of dermal fillers we have seen a breakthrough in Non-Surgical penile enhancement. We use the same products which are FDA approved to enhance cheeks and lips and instead inject them into the penile shaft and glans (head) to significantly increase penis girth and moderately increase penis length.
Studies show that penile girth is most desirable in terms of appearance and also intimate relations. Penis enhancement injections have the greatest effect on penis girth (circumference).
The enlargement procedure is performed under topical and local anesthesia and takes about 30 – 45 minutes. Patients can return to normal activity immediately after treatment. In most cases only two or 4 injection sites are used with a micro cannula technique. Micro cannulas offer enhanced safety over multiple sharp needle injections with minimizing the bruising and trauma to the organ.
Close to 30% of American men suffer from premature ejaculation to some degree. Premature ejaculation is a serious condition that can affect sexual confidence.  In addition to various techniques such as psychological adjustments and medications that can help, now clinical evidence is suggesting that injections of dermal fillers into the glans can help with sensitivity, control and extended performance.
Who is a good candidate for Penile Enlragment?
Many men who are seeking solutions for small penis size often have a distorted view of what they actually have. Therefore, your perception of size and realistic expectations of penis enhancement should be discussed during your consultation. Prior to treatment, you should reconcile all your questions and concerns, and gain a realistic expectation of results. (Example Before and After photos may be viewed during your consultation.)
Male penis shape and size varies in a range. From many published studies, the following data is the average size ranges:
Flaccid lengths – 2.8-3.9 inches (7 to 10 cm),
Erect lengths – 4.7 to 6.3 inches (12 to 16 cm),
Flaccid circumferences – 3.5 to 3.9 inches (9 to 10 cm), and
Erect circumference – 4.7 inches (12 cm).
A good candidate for penis enhancement procedures is somebody who meets one or more of the following conditions:
a below average penis size – girth or/and length
a lack of psychological confidence of penis size,
suffering from premature ejaculation, and
have realistic expectations of treatment results.
All male enhancement candidates must be the following conditions:
Over 18 years of age
Not suffering from any serious health conditions (e.g. severe infectious diseases, vascular or lymphatic complications, etc.)
Not suffering from any active sexually transmitted infections
Not having Phimosis or paraphimosis conditions
Not suffering from active Peyronie's disease
Not having history of injectable permanent implants like silicone oil in high volume
Not sensitive to any HA or/and PMMA based filler (May require some sensitivity tests.)
Please discuss your previous penile surgery or enhancement with your provider to determine your suitability for treatment.
Also note that this procedure is not a treatment to resolve bending or curving of the penis.
Patients see an immediate result and final results are evident after 1-2 weeks. Duration of the results depends on the products used for the treatment. Patients can expect mild to moderate temporary swelling and possible bruising after the procedure. Sexual activity can resume 48 hours after treatment in most cases.
The most popular and long lasting hyaluronic acid penis enlargement injection is Voluma XC. While typical treatments to the face or lips require 1-3 syringes, penile enlargement with Voluma XC requires between 5-15 syringes to the penile shaft and glans (head) and are often done in stages. With the use of multiple syringes we can offer bulk discounts on the price per syringe when performing penis enlargement with Voluma XC and Juvederm Ultra Plus XC.
Individual results will vary depending on existing anatomy. We suggest scheduling a consultation to discuss your options and map out a treatment plan.
Base treatment starts with 5 syringes of chosen product – see prices below. Patients can choose to add on extra syringes on the same day of treatment at a significant discount.
Depending on your initial penis size and the volume of filler injected, the results may vary. Our typical initial injection volume is between 5ml and 15ml. A substantial injection volume is important but a good experienced injection technique is more important for a satisfying result. Using smaller cannulas or syringes to inject and spread the filler more evenly makes a big difference. To give you a realistic perspective, the injection of 15ml of filler in a single session will produce a commensurately larger result, 15-30% increase in the circumference of the shaft of the penis. In addition to the circumference increase, a large volume injection, 15ml or more, will result in some lengthening too due to the extra weight.
After the treatment, you will experience less 'shrinkage'. For many men, their flaccid penis tends to shrink under certain situations such as after swimming, when cold, or if embarrassed.  Especially in a public change room or a shower room, some men feel self-conscious. The treatment can help you feel more confident when flaccid.
When erect, you will observe a measurable increase in thickness (proportional to the volume injected), but it may not be as noticeable as when flaccid.
For most men suffering from premature ejaculation, you will notice an improvement on controlling and extending the time before ejaculation. However, ejaculation is also associated with other psychological factors.
Sometimes, the natural shyness of booking a consultation is the most difficult thing to get over. After this most difficult step, you will feel at ease as it is just like a visit to a regular doctor's office. We encourage you to raise any questions or concerns you may have about your condition, the procedure and the likely outcomes.  Dr. Jane or our trained consultant will explain the treatment options, take some measurements, and recommend a suitable treatment for your desired results.
BEFORE YOUR PROCEDURE
The following items should be completed before your treatment:
Hair trimming a few days prior to treatment. (Recommended)
On the treatment day, washing the area thoroughly with soap and water.
Starting one week before your treatment, do not take aspirin, Vitamin E, anti-inflammatory drugs, and St John's Wort to avoid excessive bleeding, bruising or other side effects. Please avoid the above medications before, during and after your treatment.
THE PROCEDURE DAY
About 30mins prior to your procedure, our medical staff will apply numbing cream on the injection areas. All injections are performed by Dominique Well, ARNP using a thin, rounded cannula or syringe. Only minimal discomfort is expected. This is a well tolerated procedure.  Dominique uses a special type of dermal filler that is already mixed with lidocaine, which numbs the entered area instantly.
In some circumstances, Dominique may first inject a medication that induces an erection.  Dominique can distribute and shape the filler better around the shaft as she injects.  The induced erection may last an additional hour after the procedure. If the patient experiences a prolonged erection, contact our clinic at 206-935-5689 immediately.
For a desired proportional appearance, if necessary, Dominique may also inject 2-3ml of filler into the glans of the penis.
The treatment procedure usually takes 30-60 mins depending on the injected volume. Your penis will be wrapped firmly in a stretchy bandage after the treatment. We recommend to keep the wrapped bandage on for 12 hours.
POST PROCEDURE
Even though the procedure is proven to be very safe, there are some potential temporary minor side effects:
Some bruising or/and tenderness may occur. Sometimes bruising become more apparent one or two days after the procedure.
After the procedure, swelling can be seen for a several days. Sometimes, we will provide you with anti-swelling medication to help settle if needed
Significant pain or difficulty passing urine is not common. If this happens, please call the clinic.
Some small irregularities could be shown. The dermal filler has some initial malleability. You can gently smooth out any small irregularities. If you desire, you could move product towards the head or the base by massaging it somewhat in that direction. WARNING: Please don't overdo it! The filler will be stabilized and integrated with tissue after 1 week and any abnormal placement will need to be dissolved or/and additional filler.
We recommend avoiding sex or manual stimulation for first few days. Do not have any unprotected anal sex for 1 week. Wash your penis at least twice a day for the first week. If you do have sex in the first week, wash your penis after sex.
You may return to normal activities immediately after treatment.
We ask patients to come back to our clinic for any follow-up treatments after 2 to 4 weeks. Usually, the enhancement look its best after two weeks because the HA fillers stabilize and absorb water during that time.

Base Price & Add-On Syringes
Voluma XC* 
Base Price: First 5 syringes $4000
Second 5 syringes $3750 (or $750 per syringe)
Third 5 syringes $3500 (or $700 per syringe)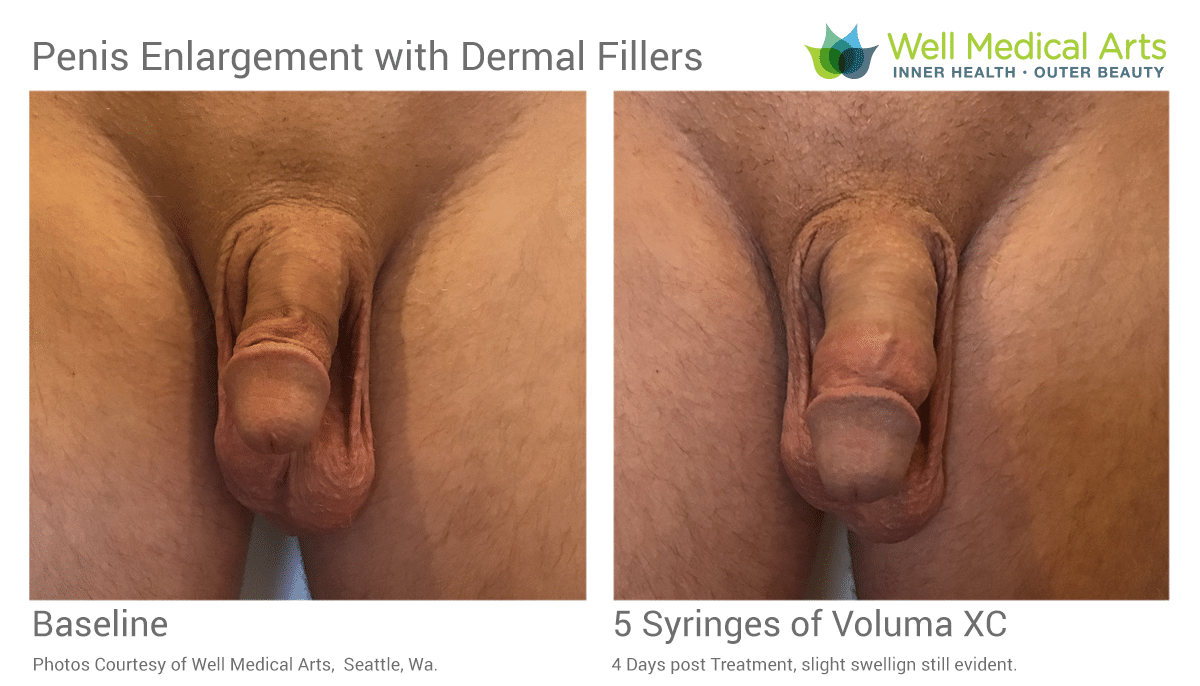 *Prices are based on same-day penile enhancement treatment. These prices do not apply to face injections.*
*Well Medical Arts does not recommend Radiesse for penis enlargement as there is a higher risk of lumpiness and it is not reversible like the hyaluronic acid products.*