Want to maintain the strength of your erections, or rocket them into another dimension? Tadalafil is the active ingredient in Cialis used to treat erectile dysfunction. We can prescribe you Tadalafil for half the price of Cialis.
At Well Medical Arts we are excited by sexual health and believe we are not alone. We are committed to helping our clients live life to the fullest, looking and feeling their best all along the way.  We are here to ensure you are performing your best in and out of the bedroom.  Click or call to schedule your consultation to determine if any of our erectile dysfunction procedures or medications are right for you.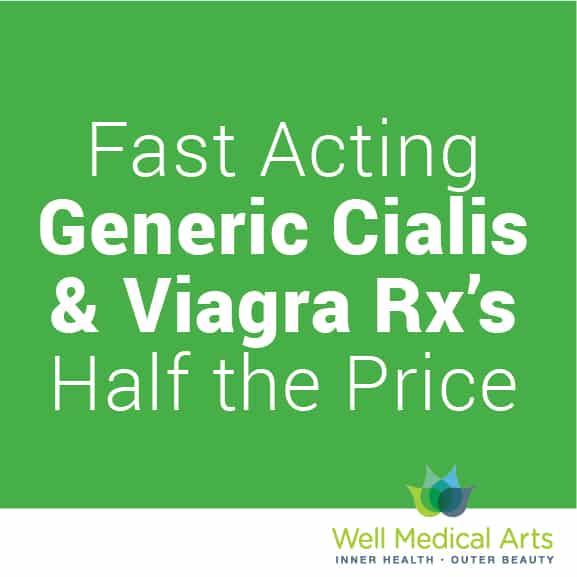 * Individual Results and Patient Experience May Vary
Unique advantages of our quick-dissolving Erectile Dysfunction sublingual tablets over the name brands:
Same active ingredients of Viagra and Cialis
Faster absorption via blood vessels under the tongue, rather than through the digestive tract
No contact with liver, which can break down certain ingredients (first-pass metabolism)
Flexible formulation to configure to your lifestyle
Fast-acting tablet dissolves quickly
Pleasant taste and mouth feel
No water required
Convenient pre-scored tablet to halve dose if needed
No refrigeration required
No artificial binders or fillers
Tadalafil relaxes muscles found in the walls of blood vessels and increases blood flow to particular areas of the body.
Tadalafil is the generic of the brand name Cialis is used to treat erectile dysfunction (impotence) and symptoms of benign prostatic hypertrophy (enlarged prostate). Another name brand of tadalafil is Adcirca, which is used to treat pulmonary arterial hypertension and improve exercise capacity in men and women.
Warning: Do not take Tadalafil (Cialis) while also taking Adcirca, unless your doctor tells you to.
Before taking Taldalafil (cialis) please be advised:
You should not take tadalafil if you are allergic to it, or:
if you take other medicines to treat pulmonary arterial hypertension, such as riociguat (Adempas).
Do not take tadalafil if you are also using a nitrate drug for chest pain or heart problems. This includes nitroglycerin, isosorbide dinitrate, and isosorbide mononitrate. Nitrates are also found in some recreational drugs such as amyl nitrate or nitrite ("poppers"). Taking tadalafil with a nitrate medicine can cause a sudden and serious decrease in blood pressure.
To make sure tadalafil is safe for you, tell your doctor if you have any of these other conditions:
heart disease or heart rhythm problems, coronary artery disease;
a recent heart attack (within the past 90 days);
a recent history (in the past 6 months) of a stroke, or congestive heart failure;
angina (chest pain), high or low blood pressure;
liver or kidney disease (or if you are on dialysis);
a blood cell disorder such as sickle cell anemia, multiple myeloma, or leukemia;
a bleeding disorder such as hemophilia;
a stomach ulcer;
retinitis pigmentosa (an inherited condition of the eye);
a physical deformity of the penis (such as Peyronie's disease); or
if you have been told you should not have sexual intercourse for health reasons.
Tadalafil can decrease blood flow to the optic nerve of the eye, causing sudden vision loss. This has occurred in a small number of people taking Viagra or other drugs similar to tadalafil. Most of these people also had certain pre-existing eye problems or risk factors for blood vessel disorders (such as heart disease, diabetes, high blood pressure, high cholesterol, coronary artery disease, smoking, or being over 50 years old). It is not clear whether tadalafil is the actual cause of vision loss.
If you have any signs of an allergic reaction to tadalafil get help immediatly: Signs of an alllergic reaction include hives; difficulty breathing; swelling of your face, lips, tongue, or throat.
Stop using tadalafil and get emergency medical help if you have:
erection is painful or lasts longer than 4 hours (prolonged erection can damage the penis);
vision changes or sudden vision loss; or
heart attack symptoms – chest pain or pressure, pain spreading to your jaw or shoulder, nausea, sweating.
Also call the clinic right away if you have:
ringing in your ears, or sudden hearing loss;
irregular heartbeat;
swelling in your hands, ankles, or feet;
shortness of breath;
seizure (convulsions); or
a light-headed feeling, like you might pass out.
Common tadalafil side effects may include:
headache;
diarrhea;
sinus pain, sore throat; or
muscle pain.
This is not a complete list of side effects and others may occur. Call your doctor for medical advice about side effects. You may report side effects to FDA at 1-800-FDA-1088.