Eliminate Sun Spots (the Brown Spots) and minimize Rosacea (the Red Spots). Restore your skin with an IPL Photofacial.
IPL (Intense Pulsed Light) treatments can be used to help restore the skin's youthful appearance through photorejuvination. IPL treatments improve the appearance of photoaged skin, remove age spots (sun-induced freckles), most benign brown pigment, and redness caused by broken capillaries through a process called photorejuvenation for face and body. The process is ideal for active lifestyles because the procedure requires little downtime and has a low risk of side effects. The treatments use broad spectrum light to treat the face, chest, neck and hands—virtually anywhere that sun damage shows. By helping to remove the age spots and broken capillaries, the result is overall more even, luminous, younger looking skin.
Photorejuvenation, when done properly, almost always consists of a series of 3-5 treatments, usually one every three to six weeks. The benefits of photorejuvenation treatments are achieved with little discomfort and minimal risk.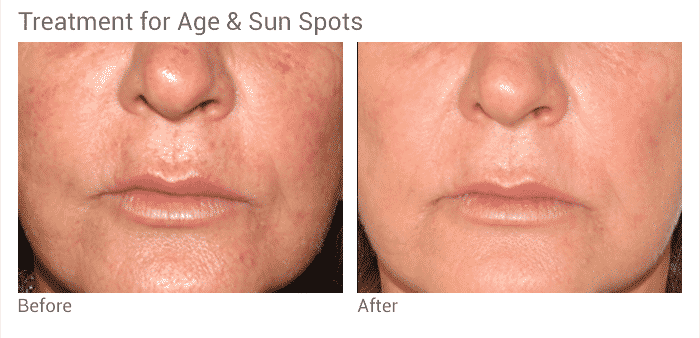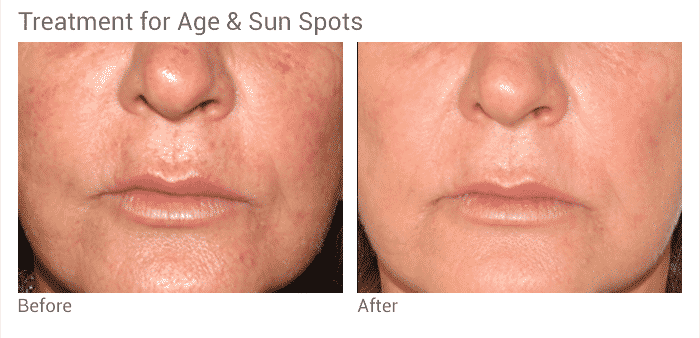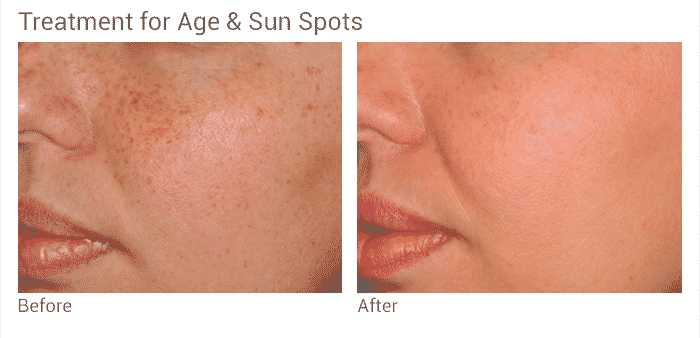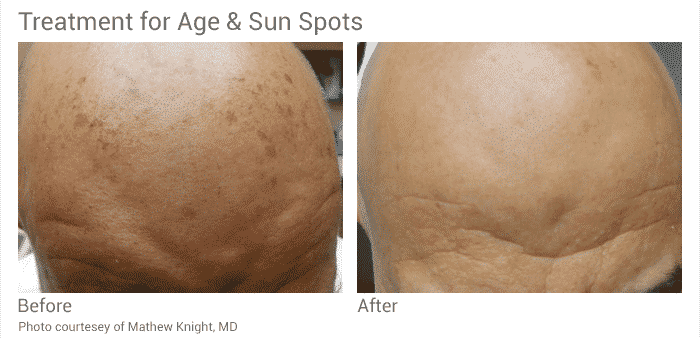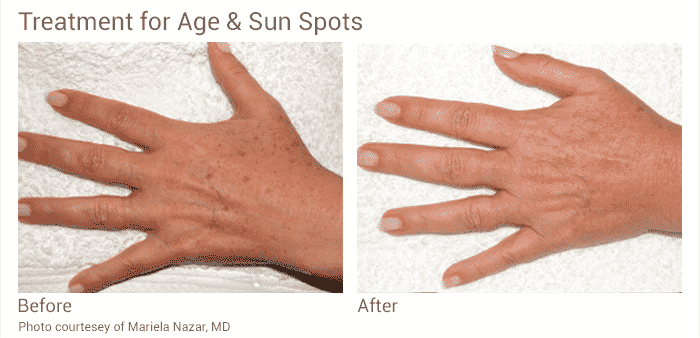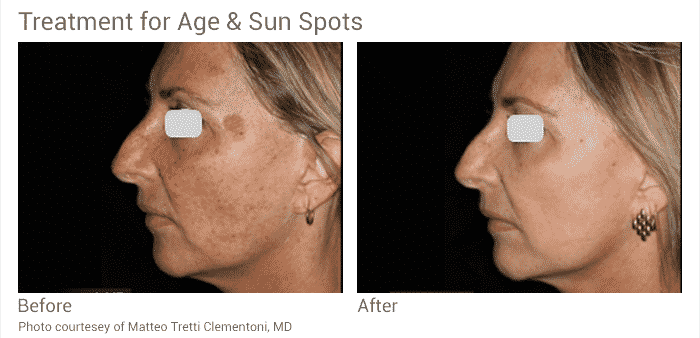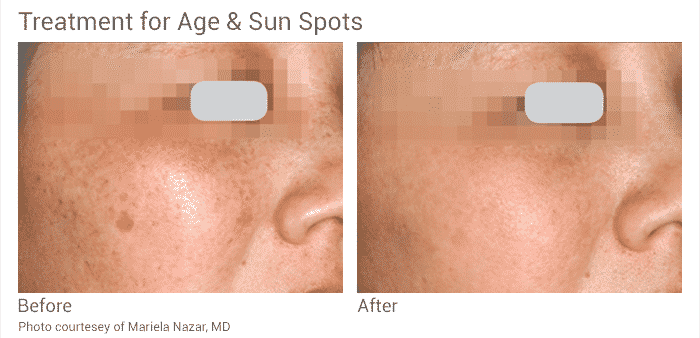 * Individual Results and Patient Experience May Vary
* Existing Clients, please use the email address we have on file as your username. 
How does the IPL treatment improve the appearance of blood vessels, rosacea, and age spots/freckles?
Broad spectrum pulsed light is transmitted through a continuously cooled applicator, gently placed over the skin. Cut-off filters in the handpiece change the range of wavelengths, optimizing it for different applications and skin types. The light penetrates the tissue and is absorbed by either the relevant chromophores and damages them (blood chromophores when treating vascular lesions and melanin chromophores when treating pigmented lesions).  The body's natural processes then clear the lesion debris, giving the skin a more even and youthful appearance.
How long does it take for IPL ( laser photorejuvenation) treatments to work?
Most people need 3-5 months, which consists of a full series of 3-5 treatments about 1 month apart.  You can see some improvement with each treatment, but it's common for your response to be slightly different to each treatment. The more sun damage or redness you have, the more likely you are to need a full five treatments.  Some cases of severe redness or brown spots require more than 5 treatments. Expect to see gradual clearing over time.
What will I look like right after the IPL treatment, and what is the healing time?
For veins, generally, the skin looks slightly redder after the treatment for two to five days. Makeup can be used starting right after the treatment, as long as it is applied and removed very gently. Rarely, there is bruising, which can take 1-2 weeks to resolve.
For freckles and age spots, the spots generally look darker for 3-7 days. Crusting can occur, which may last up to ten days. The lesions will then begin to clear and will generally be resolving at one month. Remember, it takes an average of 3-5 treatments to clear age spots.
How long will the results from a IPL (photofacial) last?
How long your IPL will last depends on how much sun exposure your skin gets after your laser treatments.  If you are in the sun a lot and do not use sunscreen, the underlying issues, whether they are redness or brown spots, will return.  But if you take good care of your skin and keep it protected from the sun, your skin will continue to look good with annual maintenance treatments.
If you want to maintain collagen growth, we currently recommend a treatment every 6-12 months. Other conditions are more variable. If you are very red, once or twice a year may be needed.
What should I do prior to my IPL (photorejuvenation) treatment?
Avoid active sun exposure, tanning beds, sunless tanner, and spray tans 2 weeks prior to your treatment.
Discontinue the use of any form of retinols for 7 days prior to your treatment.
Avoid harsh scrubs and exfoliants for 5 days before treatment.
Discontinue use of any and all sun/photo sensitive medications, including antibiotics, for two weeks before treatment.
Avoid dermal fillers for one week prior to treatment, and one week after treatment.
Avoid waxing services and/or bleaching creams to the treatment area up to two weeks before treatment and for two weeks after.
Please let us know if you have a history of cold sores as treatment could induce a breakout. We can call in a prophylactic medication for you if needed.
Post-Care Instructions for IPL (photorejuvenation) treatment?
It is normal to have mild redness or mild swelling the day of or day after treatment.
Use only a gentle cleanser recommended by your practitioner. When cleansing, do not scrub.
Do not peel, pick, or scratch the treated area, as this may result in scarring.
Apply only the products your esthetician has recommended until your skin has completely healed
from your treatment.
Avoid use of retinols or acids until skin has completely healed.
Always wear sunscreen; apply a SPF 30 sunscreen with UVA/UVB protection every morning.
Avoid dermal filler and treatments for 1 week after treatment.
Avoid active sun exposure, tanning beds, sunless tanner, and spray tans 2 weeks prior to your treatment.
Do not shave the treated area until the skin is completely healed. For male patients, you may experience hair lose if you opt for a treatment where your beard exists.
Please call Well Medical Arts at 206-935-5689 if you experience excessive pain, swelling, or if the area becomes hot to the touch as this may indicate the beginning of an infection.