Quick-Dissolving Generic Viagra Sublingual Tablets for Stronger and Longer Erections! We can prescribe custom formulated generic Viagra at half the price of the brand name.
At Well Medical Arts we are excited by sexual health and believe we are not alone. We are committed to helping our clients live life to the fullest, looking and feeling their best all along the way.  We are here to ensure you are performing your best in and out of the bedroom.
Click here or Call 206-935-5689 to schedule a Mens Tune up consultation to go over your health history and determine if you are a proper candidate for one of our sexual health treatments. Once you have had your initial consultation and if medication has been determined a 3 month supply will be shipped discreetly to your door in 3-5 business days. After 3 months a follow up appointment will be required to evaluate progress and keep you at the optimal dosage. At this follow up appointment we will prescribe your next 3 months of medication.  For those who are new to Erectile medications we do offer a one month trial option.
At Well Medical Arts we believe in thorough treatment plans and will often prescribe a combination of therapies, which could include procedures or medications and usually the combination of both. One of our most popular procedures for men is Testosterone pellet therapy which you can read about here.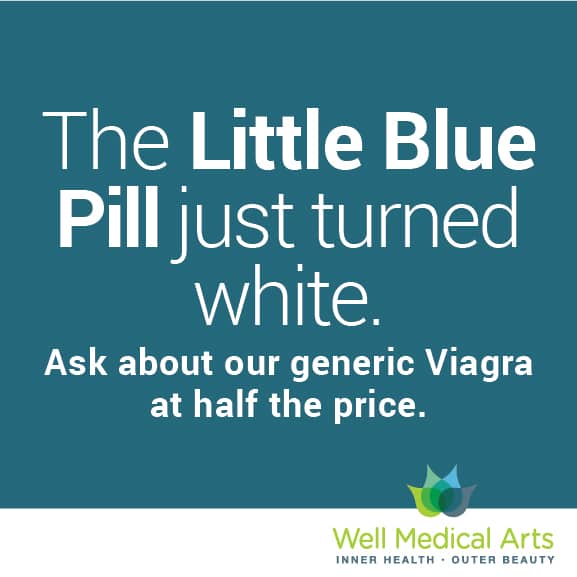 * Individual Results and Patient Experience May Vary
Unique advantages of our quick-dissolving Erectile Dysfunction sublingual tablets over the name brands:
Same active ingredients of Viagra and Cialis
Faster absorption via blood vessels under the tongue, rather than through the digestive tract
No contact with liver, which can break down certain ingredients (first-pass metabolism)
Flexible formulation to configure to your lifestyle
Fast-acting sublingual tablet dissolves quickly
Pleasant taste and mouth feel
No water required
Convenient pre-scored tablet to halve dose if needed
No refrigeration required
No artificial binders or fillers
Sildenafil relaxes muscles found in the walls of blood vessels and increases blood flow to particular areas of the body. Sildenafil is commonly sold under the brand name Viagra and is used to treat erectile dysfunction (impotence) in men. Another brand name of sildenafil is Revatio, which is used to treat pulmonary arterial hypertension and improve exercise capacity in men and women.
Do not take Viagra while also taking Revatio, unless your doctor tells you to.
How do I take Sildenafill?
Take sildenafil exactly as it was prescribed for you Follow all directions on your prescription label. Do not take this medicine in larger or smaller amounts or for longer than recommended.
Our Sildenafil is taken the same in a similar way you take Viagra, the difference is that our Sildenafil tablets are sublingual and dissolve and become effective more quickly. It is usually taken only when needed, 30 minutes to 1 hour before sexual activity. It may be taken it up to 4 hours prior to sexual activity and still be effective. Do not take Sildenafil (Viagra) or Tadalafil (Cialis) more than once per day.
Sildenafil can help you have an erection when sexual stimulation occurs. An erection will not occur just by taking a pill. Follow your doctor's instructions.
During sexual activity, if you become dizzy or nauseated, or have pain, numbness, or tingling in your chest, arms, neck, or jaw, stop and call your doctor right away. You could be having a serious side effect of sildenafil.
Always store at room temperature away from moisture and heat.
You should not use sildenafil if you are allergic to it, or:
if you take other medicines to treat pulmonary arterial hypertension, such as riociguat (Adempas).
Do not take sildenafil if you are also using a nitrate drug for chest pain or heart problems. This includes nitroglycerin, isosorbide dinitrate, and isosorbide mononitrate. Nitrates are also found in some recreational drugs such as amyl nitrate or nitrite ("poppers"). Taking sildenafil with a nitrate medicine can cause a sudden and serious decrease in blood pressure.
To make sure sildenafil is safe for you, tell your doctor about your other medical conditions, especially:
heart disease or heart rhythm problems, coronary artery disease;
a recent history (in the past 6 months) of a heart attack, stroke, or congestive heart failure;
high or low blood pressure;
liver or kidney disease;
a blood cell disorder such as sickle cell anemia, multiple myeloma, or leukemia;
a bleeding disorder such as hemophilia;
a stomach ulcer;
retinitis pigmentosa (an inherited condition of the eye);
a physical deformity of the penis (such as Peyronie's disease); or
if you have been told you should not have sexual intercourse for health reasons.
Sildenafil can decrease blood flow to the optic nerve of the eye, causing sudden vision loss. This has occurred in a small number of people taking sildenafil, most of whom also had heart disease, diabetes, high blood pressure, high cholesterol, or certain pre-existing eye problems, and in those who smoked or were over 50 years old. It is not clear whether sildenafil is the actual cause of vision loss.
This medicine is not expected to harm an unborn baby. Tell your doctor if you are pregnant or plan to become pregnant.
It is not known whether sildenafil passes into breast milk or if it could harm a nursing baby. Tell your doctor if you are breast-feeding a baby.
Do not give sildenafil to anyone under 18 years old without medical advice.
Do not take Sildenafil (VIAGRA) if you:
take any medicines called nitrates, often prescribed for chest pain, or guanylate cyclase stimulators like Adempas (riociguat) for pulmonary hypertension. Your blood pressure could drop to an unsafe level
are allergic to sildenafil
Discuss your health with your doctor to ensure that you are healthy enough for sex. If you experience chest pain, dizziness, or
nausea during sex, seek immediate medical help
Sildenafil can cause serious side effects. Rarely reported side effects include:
an erection that will not go away (priapism). If you have an erection that lasts more than 4 hours, get medical help right away.
If it is not treated right away, priapism can permanently damage your penis
sudden vision loss in one or both eyes. Sudden vision loss in one or both eyes can be a sign of a serious eye problem called
non-arteritic anterior ischemic optic neuropathy (NAION). Stop taking Sildenafil and call your healthcare provider right away if you
have any sudden vision loss
sudden hearing decrease or hearing loss. Some people may also have ringing in their ears (tinnitus) or dizziness. If you have
these symptoms, stop taking Sildenafil and contact a doctor right away
Before you take Sildenafil, tell your healthcare provider if you:
have or have had heart problems such as a heart attack, irregular heartbeat, angina, chest pain, narrowing of the aortic valve, or heart failure
have had heart surgery within the last 6 months
have pulmonary hypertension
have had a stroke
have low blood pressure, or high blood pressure that is not controlled
have a deformed penis shape
have had an erection that lasted for more than 4 hours
have problems with your blood cells such as sickle cell anemia, multiple myeloma, or leukemia

have retinitis pigmentosa, a rare genetic (runs in families) eye disease
have ever had severe vision loss, including an eye problem called NAION
have bleeding problems
have or have had stomach ulcers
have liver problems
have kidney problems or are having kidney dialysis
have any other medical conditions
Tell your healthcare provider about all the medicines you take, including prescription and over-the-counter medicines, vitamins,
and herbal supplements.
Sildenafil may affect the way other medicines work, and other medicines may affect the way Sildenafil works, causing side effects.
Especially tell your healthcare provider if you take any of the following:
medicines called nitrates
medicines called guanylate cyclase stimulators such as Adempas (riociguat)
medicines called alpha-blockers such as Hytrin (terazosin HCl), Flomax (tamsulosin HCl), Cardura (doxazosin mesylate), Minipress (prazosin HCl), Uroxatral (alfuzosin HCl), Jalyn (dutasteride and tamsulosin HCl), or Rapaflo (silodosin). Alpha-blockers are sometimes prescribed for prostate problems or high blood pressure. In some patients, the use
of VIAGRA with alpha-blockers can lead to a drop in blood pressure or to fainting
medicines called HIV protease inhibitors, such as ritonavir (Norvir), indinavir sulfate (Crixivan), saquinavir (Fortovase or Invirase), or atazanavir sulfate (Reyataz)
Sildenafil  is the same medicine found in another drug called REVATIO. REVATIO is used to treat a
rare disease called pulmonary arterial hypertension (PAH).
Sildenafil should not be used with REVATIO or with other PAH treatments containing sildenafil or any other PDE5 inhibitors (such as Adcirca [tadalafil])

some types of oral antifungal medicines, such as ketoconazole (Nizoral) and itraconazole (Sporanox)
some types of antibiotics, such as clarithromycin (Biaxin), telithromycin (Ketek), or erythromycin
other medicines that treat high blood pressure
other medicines or treatments for ED
Sildenafil does not protect against sexually transmitted diseases, including HIV.
The most common side effects of Sildenafil: headache; flushing; upset stomach; abnormal vision, such as changes in color vision
(such as having a blue color tinge) and blurred vision; stuffy or runny nose; back pain; muscle pain; nausea; dizziness; rash.
INDICATION
Sildenafil (Viagra) is prescription medicine used to treat erectile dysfunction (ED).
Sildenafil is not for women or children.
Patients should always ask their doctors for medical advice about adverse events.