Almi is taking Fat Transfer to the next level.
The Hottest new thing at Well Medical Arts is we are taking fat transfer injection to the next level with ALMI (Autologous Lipocyte Micronized Injection). All Me…All Natural.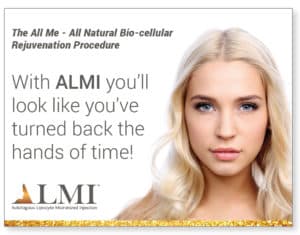 Fat is Natures Missing Ingredient for Anti-Aging!
Fat transfer is not a new procedure being performed, the break thru is ALMI.  Fat transfer has actually never been about fat, but about cells, which live in ordinary tummy and love handle fat, called progenitor cells, or more exactly, mature adult stem cells.
Although traditional fat transfer injections have given us great results, ALMI has the promise for even better results!
Why is ALMI better?
Don't get me wrong, fillers are great for "fine tuning." The ALMI fat transfer injection offers a purer progenitor cell transfer, making it better for restoring youthful natural shape to the face, with results that outlast any "filler."
How does ALMI work?
The first step, and maybe most important, is to book your consultation with Dominque at Well Medical Arts. This consult is assisted by bringing a few photos of yourself from when you were 10 to 20 years younger.  The second step is the day of your ALMI procedure.  A small area of unwanted excess fat, maybe the tummy or love handles, are numbed by injection, and then 20 cc's, equivalent to 4 teaspoons of fat cells, are gently withdrawn.  This cellular mix of fat and progenitor cells is then passed through a series of special ALMI filters. A fat transfer enriched with progenitor cells is now ready to be transferred by injection, to restore a more youthful facial form.
The entire ALMI procedure takes approximately 90 minutes, with minimal to no downtime.
If you are interested in learning more you can check out our other pages on different ALMI Procedures:
The ALMI procedure as a Natural Dermal Filler
The ALMI procedure for Hair Restoration 
The ALMI procedure for Sexual function in Women